In the second of our series of Mk3 Cavalier model reviews,
James McGrath
takes a look at the hugely important 'L'.
---
"For business it's a pleasure, for pleasure it's the business".
Yup, that was the original marketing slogan for the MK3 Cavalier L. Cheesy? Damn right, but this clever play on words served its purpose as promotional spin that conveyed just how important the L variant of the Mk3 Cavalier was to Vauxhall - if the model didn't sell in huge numbers following its launch in 1988, there was every chance that the Cavalier badge would be laid to rest.
The L needed to appeal to numerous demographics, not least of all fleet managers looking to furnish their sales reps with new wheels. The L wasn't the cheapest (or most expensive) model in the Mk3 Cavalier catalogue, but it offered excellent value for money and a wide range of appealing optional extras.
Thankfully, the marketing boys at Griffin House pulled off a blinder - the L sold in massive numbers. In fact, the model was such a common sight on the UK's roads that many people consider it to be the definitive Mk3 Cavalier! There was an L on every street corner, stacks of 'em in shopping centre car parks and a seemingly infinite stream of Ls munching miles on the nation's motorways. And with a comprehensive selection of engines to choose from, the L really does mark the beginning of the Mk3 Cavalier's success story.
EXTERIOR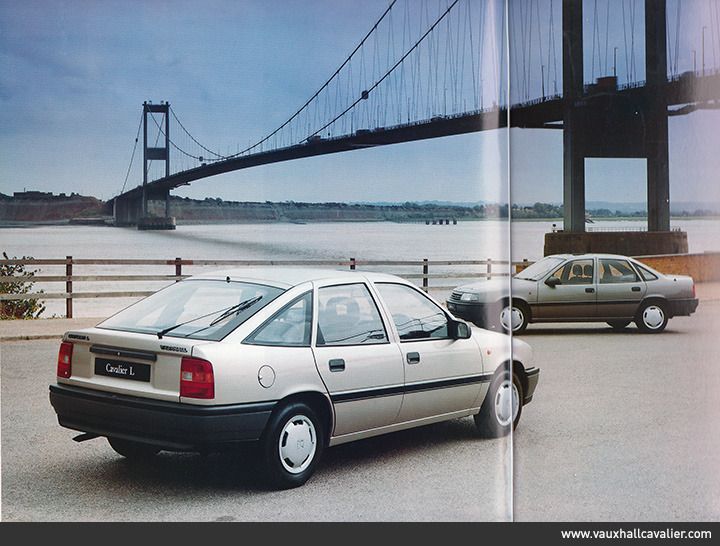 At first glance, the L doesn't seem to offer much more than its predecessor, the Mk3 Cavalier Standard (
http://www.vauxhallcavalier.com/forum/viewtopic.php?f=74&t=14776
), but don't be fooled by the continued use of grey plastics - appearances can be deceiving!
165/80/R13 tyres were standard issue on all Ls, with the exception of the 2.0i variant (which sat comfortably on a rubber profile of 195/06/R14). The same instantly recognisable hubcaps decorated each L from its launch in '88 until the model was replaced by the facelift 'LS' in 1992.
Although not supplied as a standard item, green tinted glass was available to order as an optional extra, as were electric front windows. The Mk3's infamous(!) sunroof was a factory feature of all Cavaliers including and subsequent to the L, while central locking with security deadlocks was also provided as part of the standard L package. No more 'easy to steal' Vauxhalls, then?! Ahem...
INTERIOR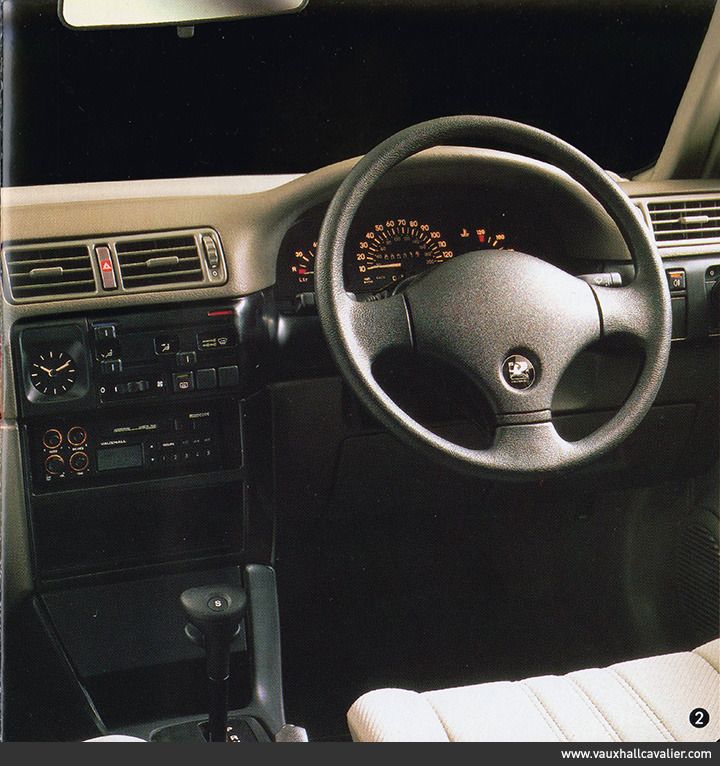 Despite being bereft of a rev counter, the L offered a decent level of refinement when compared to the Standard. A three-spoke steering wheel (that's 50% more spokes than the Standard!) and plush Epsom cloth made the L's cabin a nice place to inhabit.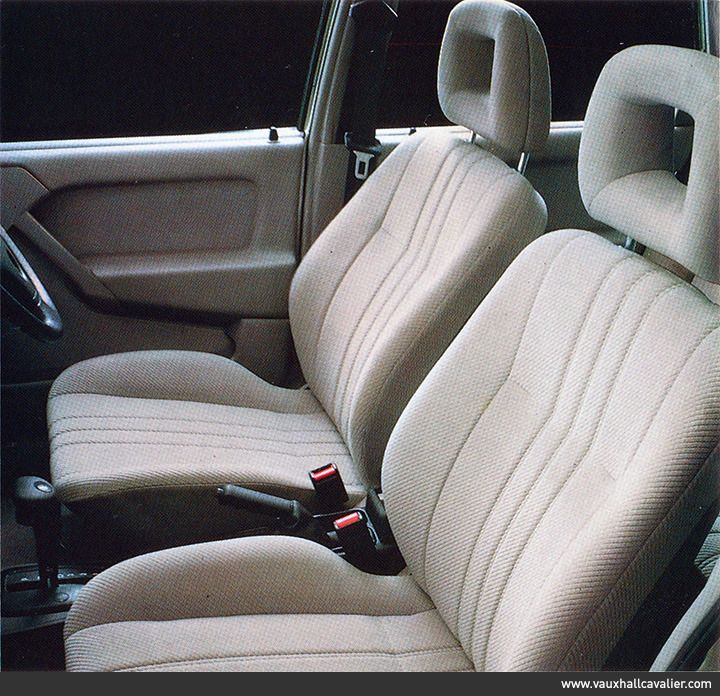 The L's driver's seat was height adjustable, and the front seat rails were adorned with covers (whereas the Standard's rails were left bare for all to see). A Philips DC 670 cassette player, a sextet of speakers and a handy cassette storage unit allowed your Kajagoogoo albums to be enjoyed without restriction. Better still, there was money to be saved: if you were lucky enough to be in possession of a 2.0i-powered L, you could cancel your weight training classes and take advantage of power steering! Ker-ching!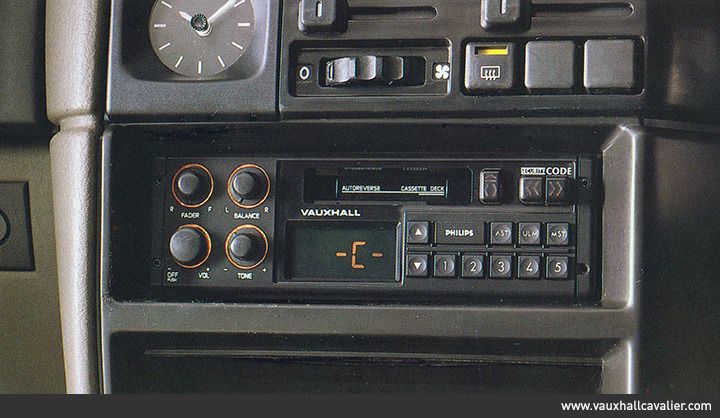 TRIM OPTIONS
The Mk3 Cavalier L was upholstered in plush 'Epsom' cloth. Original buyers could choose anthracite, grey or blue finishes.

ELECTRICS AND MECHANICS
During it's lifetime, the L was sold with an extraordinary number of different engine options. In fact, nine different powerplants propelled the model (seven different petrol engines, two diesels), including the 1.4-litre carb (14NV), 1.6-litre carb (16SV) and injection (C16NZ), 1.8-litre carb (18SV) and injection (C18NZ), 2.0-litre injection cat (C20NE) and non-cat (20NE), 1.7-litre Diesel (17D) and 1.7-litre Turbo-Diesel (TC4EE1). Phew! That little lot certainly puts a fair few modern Euro boxes to shame!
Of course, you couldn't choose from all nine engines every time you wanted to buy a new L. The engine lineup changed throughout the model's lengthy production run. Allow me to explain...
Contrary to popular belief, no 1.8-litre lump was available to choose from when the L was launched in 1988, but the 1.8-litre carb (18SV) was an option by 1990, with fuel injected units (C16NZ and C18NZ) added to the range in 1991. The original 2-litre Mk3 Cavalier engine (20NE) was, however, available from model launch until late '91. It went on to be replaced by its cat-equipped successor - an engine that started to appear during the latter part of 1990. The mighty 1.7-litre turbocharged diesel powerplant built by Isuzu was an option right at the end of the pre-facelift Mk3 Cavalier's life (1992). All other engines were available throughout the L's period of manufacture. Right, that's that cleared up.
Automatic transmission was available to order alongside every single L engine option bar the 1.4-litre (14NV), the 1.6-litre fuel injection (C16NZ) and the diesels.
COST OPTIONS
Buyers could personalise their Ls with ease thanks to a surprising number of optional extras:
Available from 1988
4-speed automatic transmission (not 1.4, injection 1.6 or Diesel)
ABS
Tiltable steering column
Power Steering (not 1.4)
Electric front windows
Electric aerial
Green tinted glass with windscreen shadeband
Rear suspension levelling
Metallic or pearlescent paint
Black paint
From 1990
Electric sunroof
From 1991
Security alarm system
MODEL CHANGES
In 1990, the 1.8-litre carb engine was made available. This configuration came with power steering as standard, just like the 2.0-litre.
1991 was another year for change for the L: catalytic converters burst onto the scene, and the 60/40 split folding rear seat was introduced as standard equipment on the saloon model (it was already a hatchback favourite!). A rev counter appeared in the cockpits of all 2.0-litre models, while electric front windows were fitted to all Mk3 Cavalier Ls.
1991 also saw a minor change in the design of the L's heated rear screen and windscreen washers: the heated screen now had a timed cutoff, and twin jet windscreen washer nozzles replaced single jet parts (these changes applied to all Mk3 Cavaliers at the time). Strangely, the option of green tinted glass was removed for '91 Ls, but it would return for 1992. Sadly, the option of an electric sunroof was removed for the L - a feature that was never reintroduced.
In 1992, the 1.7-litre Turbo-Diesel (TC4EE1) was made available for the first time. Ls equipped with this engine were fitted with a rev-counter. Inside the L, the Philips DC 670 radio was replaced with the well-regarded Grundig SC 303 unit.
Tyre and wheel fitment also changed during 1992; the 1.6-litre petrol and 1.7-litre diesel engines were treated to 175/70/14 rubber and 5.5x14-inch steel wheels. Nice.
FULL SPEC LIST: MK3 CAVALIER L
Spec list is for 1988 model year.
Items marked with an asterisk are features that were not included on the Mk3 Cavalier 'Standard'.
Engines
14NV 1389cc 8v SOHC Carb
16SV 1598cc 8v SOHC Carb
C16NZ 1598cc 8v SOHC single-point fuel injection (Available after spring 1991)
18SV 1796cc 8v SOHC Carb
C18NZ 1796 8v SOHC single-point fuel injection (Available after spring 1991)
20NE 1998 8v SOHC multi-point fuel injection (until 1991)
C20NE 1998 8v SOHC multi-point fuel injection (Available after spring 1991)
17D 1699cc 8v SOHC Lucas CAV diesel injection
TC4EE1 1686cc 8v SOHC Zexel NP-VE indirect injection (Available after spring 1992)
Transmission
Front-wheel drive, five-speed wide-ratio gearbox.
Final drive ratios:
14NV 4.29:1
16SV, 18SV, C18NZ, 17D 3.94:1
C16NZ 4.18:1
TC4EE1 3.72:1
20NE, C20NE 3.55:1
Seats
Epsom cloth trim*
Cloth trimmed, open front head restraints
Driver's seat height adjuster*
Front seat rail covers*
Once-piece folding rear seat with fold down centre armrest (saloon)
Split-folding rear seat with fold down centre armrest (hatchback)
Facia, instruments and controls
Trip odometer, instrument panel light dimmer, water temperature gauge
Lockable, illuminated glove box with non-slip mat
Illuminated quartz clock and cigar lighter
Heating and ventilation
Air blend heater with four-speed fan and illuminated controls
Side window demist vents and adjustable face level air vents
Audio equipment
Philips DC 670 stereo radio/cassette player with security coding and 6 speakers*
Cassette storage facility*
Manual retractable aerial
Interior lighting
Interior courtesy light operated by front and rear door switches
Illuminated load area and glove box
Underbonnet lamp
Additional interior features
Fully reclining front seats
Height adjustable inertia reel front and rear seatbelts with one rear centre lap-belt
Two front and rear tilting assist handles with coat hooks
Steering column lock
Colour-coded facia
Moulded A, B and C pillars
Colour¬-coded door sill plate
One piece moulded headlining
Gear leaver gaiter
Cloth door trim panels
Carpeted rear parcel shelf (saloon)
Carpeted hinged load compartment cover (hatchback)
Fully carpeted load area
Carpeted rear seat back
Boot/load area sill protection
Provision for luggage retention straps in boot
Extensive sound insulation
Integral centre console with coin rack, front door pockets, front and rear ashtrays
Dipping rear view mirror, passenger vanity mirror, twin sun visors with drivers ticket pocket
Three-spoke steering wheel*
Colour-coded fleece carpet
Exterior lighting
Halogen headlamps with dim-dip facility
Lights-on warning buzzer
Twin reverse lights, twin rear fog lamps, hazard warning lights, side repeat indicators
Exterior styling
Boot pushlock and handle
Dark grey body side protection mouldings
Light grey front and rear bumper valances
Silver front grille
Additional exterior features
Laminated windscreen
Central locking with security deadlock and torch key*
Sliding/tiltable glass sunroof with interior blind*
Heated rear window
Intermittent tailgate wash/wipe (hatchback)
Manually operated, internally adjustable door mirrors
Locking fuel filler cap
Intermittent and flick wiper control
Electric screen wash
Wheels and Tyres
5.5x13-inch steelies with flush hubcaps
5.5x14-inch steelies with flush hubcaps (2.0/1.8-litre models)*
5.5x14-inch steelies with flush hubcaps (After 1992 for all 1.6-liter and 1.7-litre diesel models)*
165/80/13 tyres
175/70/14 tyres (After 1992 for all 1.6-liter and 1.7-litre diesel models)*
195/60/14 tyres (2.0/1.8-litre models)*